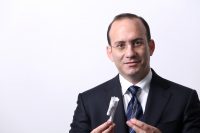 Dr. Joseph J. Naoum, MD, FACS, RPVI
18400 Katy Fwy,
,
Houston
,
Texas
,
00000
,
USA
+96176933937
Are you a doctor / consultant? Refer a patient / client to Dr. Joseph J. Naoum
Are you a patient? Request an appointment from Dr. Joseph J. Naoum
Member Login
Connect With Me
Are you a medical practitioner and know this Doctor/Consultant? If so, please add a review.
18400 Katy Fwy, , Houston, Texas, 00000, USA
+96176933937
Dr. Joseph Naoum graduated from Vanderbilt University School of Medicine where he was also awarded an undergraduate Bachelor's degree in Biomedical Engineering. He completed his General Surgery Residency at The University of Texas Medical Branch and a Fellowship in Vascular Surgery at the prestigious Michael E. DeBakey Department of Surgery at Baylor College of Medicine. He is currently certified by the American Board of Surgery in both General and Vascular Surgery and he is a Fellow of the American College of Surgeons. He is also a good standing member of various academic surgical societies.

His research interest includes the design of novel vascular devices and has been the Principal investigator or Sub-investigator in numerous clinical trials. He has actively published peer-reviewed journal articles and book chapters. Dr. Naoum has expertise in open and endovascular approaches to aortic surgery, limb salvage procedures, carotid surgery, dialysis access, and the treatment of venous disease and varicose veins. He contributed the establishment of very successful dialysis access, limb salvage, venous and aortic surgery programs.