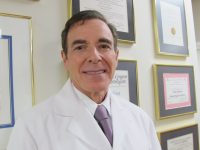 Dr. Gordon Kent, DMD
Smile Center
4427 Union Road
,
Buffalo
,
New York
,
14225
,
USA
716-634-4090
Are you a doctor / consultant? Refer a patient / client to Dr. Gordon Kent
Are you a patient? Request an appointment from Dr. Gordon Kent
Member Login
Are you a medical practitioner and know this Doctor/Consultant? If so, please add a review.
4427 Union Road, Buffalo, New York, 14225, USA
716-634-4090
Dr. Kent was born in Chicago. He spent most of his youth and graduated high school in Brockton, Massachusetts, a suburb of Boston. Dr. Kent then went to St. Louis, Mo. to attend Washington University, where he earned a Bachelor of Arts degree in sociology, as well as teaching credentials in high school history and social studies. He became licensed to teach in both Missouri and Massachusetts. Then Dr. Kent went to Israel for a year of religious study and work. It was at this time that Dr. Kent decided on a career change. He returned to Boston, Ma. There he spent the next three years working first as a substitute teacher in the Boston School System and then as a social worker for the city of Boston, while he took the necessary science courses for entrance to dental school. He took these courses at the following universities as they fitted around his work schedule: Harvard University, Boston University, Northeastern University, and Suffolk University. During this period Dr. Kent also spent considerable time volunteering in the emergency department of Boston City Hospital. Dr. Kent was entered in 1976 and graduated three years later from Tufts University School of Dental Medicine with a degree of D.M.D in 1979. Because of his academic placement through examination, Dr. Kent was asked to be a teaching assistant for some of his dental school courses instead of taking them as a student and he was able to complete advanced work in histopathology. While in dental school Dr. Kent continued his volunteerism in the emergency clinic of the dental school. Also while in dental school, Dr. Kent continued to work part time for the City of Boston as a social worker and then as a dental laboratory technician. After earning his doctorate in 1979, Dr. Kent moved to Western New York with his family. In 1981, Dr. Kent founded The Smile Center.