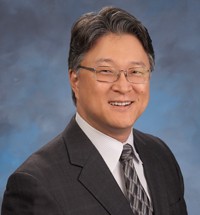 Dr. Peter L. Kim, MD
Family Care Centers
Costa Mesa
,
California
,
92626
,
USA
(714) 5873280
Are you a doctor / consultant? Refer a patient / client to Dr. Peter L. Kim
Are you a patient? Request an appointment from Dr. Peter L. Kim
Member Login
Connect With Me
Are you a medical practitioner and know this Doctor/Consultant? If so, please add a review.
Costa Mesa, California, 92626, USA
(714) 5873280
Dr. Kim is the Medical Director of Family Care Centers, Chair of the Department of Family Medicine at Hoag Hospital, and a recipient of the Physicians of Excellence award from the Orange County Medical Association. He is Board Certified in Family Medicine, and has been practicing in our community for 18 years. He is an excellent, caring, and well-qualified physician who is dedicated to providing you with superior health care.


A native of Los Angeles, he graduated from UCLA and received his medical training at the LAC-USC Medical Center.
Member of: Board of Directors, Greater Newport Physicians, Memorial Care Physician Society Board, Chair, GNP Leadership Committee