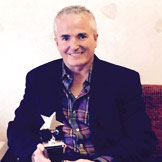 Interview with 2014 National Award Winner
Congratulations, Dr. Arnold, this is the first time we are awarding Doctors' Choice Awards in Dentistry in 2014! What are your thoughts on being the first winner?
I am extraordinarily honored to have been nominated and even more excited about actually winning this award. Being recognized by my peers for my commitment to excellence in dentistry is truly humbling. It's really a testament to my awesome team and their hard work in making our practices something special.
Dr. Arnold, how significant or how essential is it for dentists to belong to a professional association or organization as they continue to practice?
I think that it's really important for dentists to work together for the betterment of our great profession. Professional organizations like ACE, the AACD, and the ADA represent the best that dentistry has to offer, and dentists should all utilize the combined knowledge and resources of these groups. This helps them to be the best that they can be and to enjoy the many benefits provided by these fantastic associations.
Can you also explain why? Both for dentists just graduating and for established dentists as well?
The ADA provides dentists with a political voice and works hard to improve the entire profession so that dentists are better able to run their practices in the way that they see fit. This creates an environment within which practices can provide great care to patients while continuing to make a good living. Every dentist – new graduates and experienced dentists alike – should be a member so that they can support the ADA in the way that the ADA supports THEM.
ACE is a fantastic group of like-minded, well-educated dentists who are focused on delivering exceptional esthetic care in practices that are also very profitable. Their partnership with Smile Source also give it's members collective bargaining power with dental supply companies and dental labs. These relationships save the membership thousands of dollars every month, allowing them to make more money without having to compromise their quality of care. Additionally, they provide their members with extraordinary continuing education and an environment that is conducive to building great relationships amongst colleagues. Young and well-seasoned dentists all share in the process of education, huge savings, and mentorship.
The AACD is the number one advocate for high-end cosmetic dentistry in the world, and it's members are all encouraged to work hard to achieve the highest ideals of perfection. Being a member gives dentists access to education with the best minds and hands in dentistry. The educational opportunities, exposure to new techniques, new materials, and relationships are really unique.
Joining the ADA right out of dental school gives dentists an opportunity to have a voice in the legislative process that drives our profession. Becoming members of ACE and the AACD provide young dentists with opportunities to expand their minds, build great clinical skills, make a better living, and get to know incredible, experienced dentists from whom they can learn a great deal.
We also want to ask you, what kind of culture have you created in your practice?
We have established a culture that is conducive to collective productivity and individual satisfaction. We stopped referring to our team as a "staff" a long time ago because we truly have a TEAM. That means that they are all on the same page working toward the same ideals, helping one another, and creating greater comfort for our patients. Our team treats every patient like they would a member of their own family, building relationships, rather than just building rapport. Great patient dental care and service, strong relationships, and mutual respect are the ideals to which we all aspire.
What is it like for your employees to work with you?
The Smiles By Arnold & Associates doctors and team work together to create a relaxing environment for our patients and a happy environment for one another. They have a lot of autonomy to make decisions without me having to micromanage everything. Our relationships are built upon trust – trust that they will make good decisions and do the right things for one another and our patients. When we need another employee, the TEAM selects who they want to work with. That minimizes the risk of conflict that can be caused when the wrong person is hired. The team is responsible for finding people with whom they want to work. The office managers do the interviews, select the top two candidates, and the team ultimately decides who is the best fit. While having some experience is important, the final decision generally comes down to having the right personality and work ethic to not only fit in, but to improve upon what we are already doing.
And what is it like for your patients when they come to you and your staff for dental care?
Patients are usually blown away by the unique experience that they have with us. They find a team that will not only listen to them attentively and take their concerns very seriously, but they find talented, compassionate dental professionals who become their advocates for better oral health and improved esthetics. Spending a little time with our team, most patients feel very relaxed due to the authenticity of every person they meet, and they look forward to their visits with us. Knowing that they have the option of conscious sedation puts even the most anxious patients at a ease. Ultimately, I think that patients KNOW that they are in the right office within minutes of arriving, and that is a real testament to my incredible team.
Do you think it is important to clearly establish a practice culture in today's dentistry? If so, why?
Establishing the right practice culture isn't optional anymore – it's essential. With so many options for patients today, it's critical to differentiate yourself in a positive way. If your practice environment and culture aren't unique and authentic, then you will never stand out, and you'll fail to attract and keep great patients. If you create a culture of positivity and have a happy team, then the patients will sense this, know that they are in the right place, and THEY will be more positive and happy. If your team is unhappy, then patients will sense this, wonder what's wrong, and they won't be as likely to say "yes" to proposed treatment, and they won't be likely to stay with you. That means that the team's happiness and job satisfaction comes first because that is the most critical component to building the right culture for our patients.
What advise do you have for dentists with regard to continuing education?
I probably attended TOO MUCH continuing education 10-12 years ago. I was on the road about 25 weekends per year attending about 400 hours of CE for a long time. It was overwhelming at times, it was very expensive, and the time away made it difficult to implement the things that I was learning. Additionally, it put a huge burden on my team – traveling and working really hard to learn and grow along with me.
I would recommend a more measured approach, taking one major course every six months to a year, learning it thoroughly, implementing it completely, and then moving on to the next course. This approach will decrease the stress level for the doctor and team immensely and make the learning process much more effective and will ultimately benefit the practice and patients in a much bigger way.
What do you think will be the best advise you could share with them on planning ahead?
I would spend some time thinking seriously about WHAT you want to learn and add to your practice. Then I would carefully consider all of the options in that area of dentistry prior to selecting the course that seems like the best fit. Set up a budget, a timeline, and a step by step plan for implementing the changes to your practice you want to make. Be sure that your team learns the new procedures, technology, and materials along with you because THEY are the ones who will ultimately be responsible for putting it altogether and making it work. Try not to do too much at the same time, as you'll be less likely to be successful.
As a dedicated dentist as you are, what three leadership traits would you say are the most needed to run a successful/thriving practice?
As a leader, you have to be a good listener, and you have to trust your team. If you hire the right people, they will have knowledge, experience, and ideas that you can utilize to improve your practice. Your team members can often be your best resource to ensure continued success. They are also on the "frontline", seeing and hearing things that you don't. If you listen to what they have to say and take them seriously, you'll make better decisions that can positively impact your practice.
You also have to be decisive. There are so many decisions to make daily in every dental practice, and most of those decisions have to be made quickly. If decisions aren't made decisively by the practice leader, then the team (and sometimes patients) are left in limbo wondering what's going to happen. You will sometimes make mistakes, but most of the time, these mistakes can be corrected. Most of the time, you can trust your instincts, and these decisions will have the desired result. For those less-than-ideal outcomes, it's simply a learning experience that will allow you to grow and make a better decision the next time around.
Additionally, good leaders have to learn from their experiences – both positive and negative. If you can analyze your decisions and the outcomes effectively, then you can learn and grow from everything you do. That will ensure that even with slight detours, bumps in the road, and outright mistakes, you'll continue to move in the right direction, moving ever closer to developing the practice of your dreams. When you track your results, then you can do more of what works and less of what doesn't work. Failure to recognize this will severely curtail opportunities for growth.