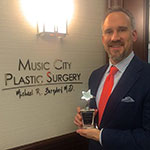 Congratulations to you Dr. Anderson on being the national winner of the Doctors' Choice Awards in Plastic Surgery 2015! How excited are you on winning this prestigious award?
Receiving the nominations and being voted the National Winner of the Doctors' Choice Award in Plastic Surgery for the U.S.A. is a huge honor for me and my entire staff at the Anderson Center for Hair.
You have received great reviews from your peers in the industry. So what was your first thought on Doctor's Choice Awards? And what drove you to partake in it?
We work very hard to ensure an outstanding patient experience for each and every one of our patients. The fact that my name is on the front door of our center, and is the name of my practice is more than merely descriptive. It means my reputation and the reputation of the Anderson Center for Hair is on the line with every patient and with every surgery. Our patients can see the many patient reviews that we have online, with all the details of their experiences at our center. The Doctors' Choice Award helps to let patients know that not only do other patients give my practice a 5 star rating across the board, but that other physicians and surgeons from around the country do as well. The opinions of physicians and surgeons in the United States of a particular physician are especially valuable, as many of these colleagues have spent time in the Operating Room with that physician, and can offer insights that are simply not available to the public.
How will winning this award affect your practice?
As the National Winner of the Doctor's Choice Award in Plastic Surgery I display the award and trophy at my center to assure patients of outstanding and ethical care, and that my peers have endorsed me as a surgeon that they would recommend for hair restoration surgery services.
Can you tell more about your educational qualification and how long have you been established in your practice?
Some of the surgeons who nominated me for the 2015 Doctor' Choice Award in Plastic Surgery were my mentors from my years in surgery training at the University of Michigan Department of Otolaryngology-Head and Neck Surgery (ENT surgery). My formal surgical training is in ENT surgery, in which I spent 6 years following medical school. I then completed a fellowship in Facial Plastic and Reconstructive Surgery, and I am board certified in both surgical subspecialties. In 2003 I joined a busy practice in Beverly Hills, California, that focused 100% on surgical hair restoration.
It's a field that is very dependent on the artistic skills and judgement of the surgeon, and as a medical illustrator I was fascinated. I remained in Beverly Hills until 2008 when I was recruited by Emory Healthcare to be the Chief of Hair Restoration Surgery at the Emory Facial Center in Atlanta, Georgia. In 2012 I founded the Anderson Center for Hair, a new, state-of-the-art facility dedicated to providing the most natural, permanent hair restoration results to both men and women, with an emphasis on artistic concepts, patient comfort, and natural, permanent hair restoration results. We're the first and only practice in the State of Georgia to offer the ARTAS® Robotic Hair Transplant system, and I'm the only physician in Georgia to be recommended by the American Hair Loss Association.
What kind of culture have you created in your practice?
One of this things of which I am most proud is the team I have been fortunate to assemble at our center. From the front office to the consultation office to the surgical suite, every person is very strong at their position, and we work together like we've been doing it for years. That's because we have; I was not in a rush to build a team for my new center as I know that one of the keys to success is a very strong support team. Each member has had years of experience in the field, and with such a success-oriented culture of outstanding patient care and exacting surgical standards we can offer the best hair restoration options for anybody with hair loss. Patients can expect the highest ethical and surgical standards. Some patients will be turned down; not every person with hair loss is a candidate for a hair restoration surgery.
What was your greatest challenge which you had to face as a surgeon or leader?
That's a great question. I would have to say it was leaving the university setting at the conclusion of my fellowship in Facial Plastic Surgery and entering the "real world" of elective facial plastic surgery in Beverly Hills, California in 2003. At the University of Michigan I was not under significant time constraints during an operation. It's a teaching hospital, and if I needed an extra hour to complete a nasal reconstruction or a blepharoplasty (e.g.: eyelid surgery) it was afforded to me without issue. However when working at a busy private practice in Beverly Hills it's an entirely different ballgame. I joined another physician in his busy hair restoration surgery practice, and was given a schedule to follow to help pace my surgeries for the day before seeing patients in consultation in the afternoons. It required me to perform 2 hair restoration surgery procedures every day except Sunday, and to have both surgical procedures completed by 1:00PM, as that was when the patients would start to arrive for their appointments. I would see patients from 1:00PM to 6:00PM, Monday through Saturday, after having performed 2 hair restoration procedures that day. What I did not enjoy was having to rush through surgery; sometimes both patients for any given day had undergone previous hair restoration surgery and were otherwise complicated surgical procedures. It didn't really matter how complex the cases were, they had to be completed by 1:00PM because the patients were going to start arriving at 1:00PM for their appointments. So, I was forced to operate faster and faster as I became more talented and experienced at such a nuanced surgical procedure. This was an issue with which I had not dealt previously, and was somewhat uncomfortable hurrying along an elective cosmetic surgical procedure. Hair restoration surgery is like creating art to me. I'm a formally trained medical illustrator, and I know from experience that you cannot rush along an illustration, or a painting, and expect it to be just as good as if you had taken your time. Initially I solved the problem by just pushing back the start time for the day, from 8:00AM all the way back to 6:00AM, but as I became more familiar with the subtleties and nuances of surgical hair restoration, even this didn't seem like enough time as I'd want to accomplish more and more as the months passed. When I left that practice in 2005 to start an independent practice, I promised myself that I would never do more than one procedure per day. It just makes sense to me: if you are going to create a masterpiece work of art, you'd much rather have all day to complete the masterpiece rather than having to create two masterpieces by 1:00PM. So when I left to practice independently I limited my schedule to only procedure per day. This is a core principle of mine with regards to the way I practice hair restoration surgery, and it continues to this very day. I perform only one hair restoration surgery procedure per day, assuring both me and my patient that I will have my very best artistic and surgical skills available for the duration of the procedure, at whatever pace I'd like to keep, without the worry of being rushed. My patients and I like it this way, and it's something that is not going to change.
I understand you are not simply an experienced surgeon but also a prominent educator, medical illustrator and a researcher. How do you balance yourself between these roles?
Time is our most valuable resource, so balance is critical. Of course my primary focus is our patients; I'm a very hands-on surgeon, and I like to be very involved with my patients' care, which unfortunately tends not to be the case in the field of hair restoration surgery. I am asked to give talks and lectures, and I chose carefully from these opportunities. For instance I chose to deliver a lecture to the Japan Society of Clinical Hair Restoration in Okinawa, Japan. The subject of the lecture was the Follicular Unit Extraction (FUE) method of hair restoration surgery, and my 10 year experience with the technique. I do turn down other opportunities, however. The more academically-oriented the subject of the talk, or the association that asked me to deliver a lecture, the more likely I am to take the opportunity. This year I am starting an outreach program to schools of cosmetology and hair design to offer educational lectures and classes in association with these prestigious training programs, such as the Paul Mitchell Schools. Research data show that 41% of men with hair loss first ask their hair stylist about it. The percentage of women is even higher. I'm looking to provide expert educational classes to these students to help prepare them for the questions and concerns they will receive on the outside world. Despite all the training and know-how that these students are taught about how to care for and style hair, sometimes the education in hair loss and how to manage, prevent, and reverse hair loss is not as available, and that's where I'd like to help. There are so many options for people suffering with hair loss these days, and a lot of people think the surgery results still look like pluggy doll's hair. I believe getting the word out starting with the very people who cut and style hair could be effective in letting people know that they don't have to suffer with hair loss any longer.
Combining these educational efforts with research activities is not as difficult as it sounds. For instance we're about to start a study about the effects of stem cells on hair loss. Many times one of the main problems is finding subjects to enter into research studies. This is not a problem at the Anderson Center for Hair, as we have a large patient population, many of whom are interested in participating in new and exciting technologies to treat hair loss, such as stem cell therapy. We currently offer platelet-rich plasma (PRP) therapy for hair loss, and I think that offering stem cell therapy as well is a natural extension of PRP treatments. Medical illustration is also a passion of mine, and I find time in the evenings and weekends to sit at the drafting table at the art studio I have set up in my home and create illustrations, usually for scholarly articles that I wish to publish in the medical literature. I use a mechanical pen-and-ink set my father brought back from Germany for me in 1983. I'm a bit 'old school,' and there's nothing like paper and pen for the highest-quality illustrations, in my opinion. Computer art has come a long way since my training in the fine arts in the 1980s and 1990s, and I am using that medium currently to digitally modify and enhance photographs I have taken specifically for the project, sometimes in very abstract ways. The creativity of the process is what I enjoy most.
Do you plan to take your practice to the next level? Or rather what are your future plans?
My main concern with offering hair restoration services to patients is the quality of the work and the appearance of the result. As I mentioned, having my name on the door is more than merely descriptive; it means patients can be assured of the very highest standards of practice in hair restoration surgery available anywhere. It means patients can expect a certain standard of care and ethics when they arrive to inquire about how to deal with hair loss. I am planning to open other locations, initially in Atlanta, then branching out across the Southeast, starting later this year. The growth will be very controlled, however, and I will personally be overseeing every aspect of the process to ensure the quality behind the name is never diminished or compromised.