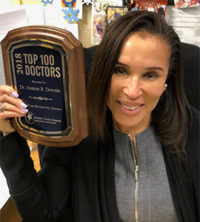 Jeanine B. Downie, M.D. is board certified by the American Board of Dermatology and is the director of her own practice, image Dermatology ® P.C. in Montclair, N.J
With a vibrant, friendly social media presence and a perfect 5.0 review score on Doctors' Choice Awards and Fans' Choice, Dr.Jeanine Downie has elevated her profile as the premier dermatology practice in her community—and potential patients are noticing.
Dr. Downie is a consecutive Montclair winner since 2016 in Doctors' Choice Awards for Dermatology. An addition of DCA winner badge and DCA reviews widget, Dr. Downie's website with this touch of minimalism and a sprinkle of sophistication proved all the difference. The website would be the destination for every prospective patient at some point in their journey, not only did it need to work for Google, but it also needed to nurture prospects along their journey from visitor to patient.
"I am delighted to receive this Doctors choice award. I feel honored and respected by my colleagues, which is very important to me. Thank you again for this honor."

– Dr. Jeanine Downie
The marriage of social proof and social presence
Dr. Downie's DCA VIP membership opened doors to exciting additions not only to the website but also her social media . One such feature is the ability to create stunning review banners with just a click of a button to share in her social media profiles.
She loved it when her reviews from various platforms such as facebook, google , fans choice reviews and much more can be converted into eye-catching shareable banners that displays her best 5 star online reviews on social media.
Checkout her Hall Of Fame: https://www.doctorschoiceawards.org/nominees/dr-jeanine-downie/