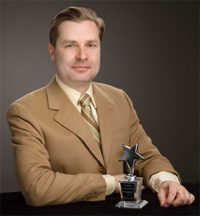 Dr. Clemens Esche is one of the leading dermatologists in Virginia. He joined Doctors Choice Awards and the results are exceptional.
He received more than 60 reviews from his colleagues and doctor friends. WIth his DCA VIP membership he was able to dominate google search on the first page.
Dr. Esche estimates that now more than 70 percent of new patients come in as a result of an online search.
"Being the National Winner in 2014 has completely changed my online reputation and has basically doubled my patient numbers. Becoming the National Winner in 2015 will again boost my reputation among patients and my patient numbers. I am therefore extremely grateful to your organization for providing me with this unique opportunity."

– Dr. Clemens Esche
Customized Invitations
One of the features that Dr. Esche likes most about Doctors' CHoice awards is the advanced dashboard . To send out the invitations to patients and his colleagues by choosing different review profiles. The customized invitations have helped increase the number of reviews received.
Many Benefits
One of the biggest benefits of having a DCA profile has been the lift in SEO. Now, depending on where you are searching from or what wording you use, Dr. Esche's profile now shows up in the top three of the Google Map pack.
Additionally, Dr. Esche appreciate how quick and easy it is to use our dashboard to invite patients and colleagues and to manage reviews. According to Dr. Esche, In a short time, we've been able to generate real reviews that are helping prospective patients in the area get a flavor of what we're able to do and the high level of experience that we're delivering in the care of our patients.
Checkout his success story here: